DOME LITTER BOX GREY
DOME LITTER BOX GREY

A beautiful design, which comes into its own in every modern interior. Stylish, but also very certainly functional.

Benefits for you:
-No unpleasant odors
This Dome is easy to clean.
Daily cleaning is best against odors and a clean litter box is very important for your cat.
-Easy maintenance
Lifting the top can easily be done by mideel of the handles.
With the specially designed scoop you can quickly and easily put waste in the small container. This container is easy to empty.
-Prevents the spread of grit
By means of the drip tray, the grit falls in and less grit is spread across your floor.
You can easily empty this container in the trash every other day.
-A nice addition to your interior
This Dome has a minimalist design and fits any interior.
The included partition also ensures that you do not have to look directly in the litter box.
-Prevents scratches on your floor
Because of the pads at the bottom, this litter box will not damage your hard floor.
Benefits for the cat:
-Easy access
The Dome is also suitable for older cats or for cats with arthritis.
-Privacy
Security and privacy offers this litter box through the closed litter box, the curtain and the partition.
-Close to the owner
Due to its stylish design, this litter box does not need to be hidden and can be placed anywhere. Some cats like to stay near you.
Super easy cleaning:
-Lift the lid with the 2 handles.
-Take the scoop and the small container.
-Deposit the waste in the small container.
-Throw the waste in the bin.
-Replace the container and lid.
Deepcleaning is easy with soapy water, then dry the Dome with a cloth. Tip: Do not use too hard a brush while cleaning to avoid scratches
Please note:
-The Dome is not suitable for cats that urinate standing up (spray).
-Not suitable for the largest breeds (Ragdoll, Main Coon and Norwegian forest cat); cats above 5 kg.
Components
-Drip tray with small container
-Scoop with holder
-Curtain (can be clicked on or off)
-Top with handles
-Partition wall
-Bottom with pads
The product does not need to be assembled and can be used immediately.
Dimensions and weight:
-Total product size: 50 x 37.5 x 38 cm
-Drip tray size: 37.5 x 22 cm
-Size small container: 36.5 x 20 cm
-Size of the actual cat toilet: 37.5 x 28.5 cm
-Cat entrance: 17 x 18 cm
-Net weight: 5.3 kg
-Max. Loadable weight litter box: 5 kg
-Max. loadable weight (load capacity) on top of the Dome: 25 kg (for example, put a plant on the Dome!)
Product drawing: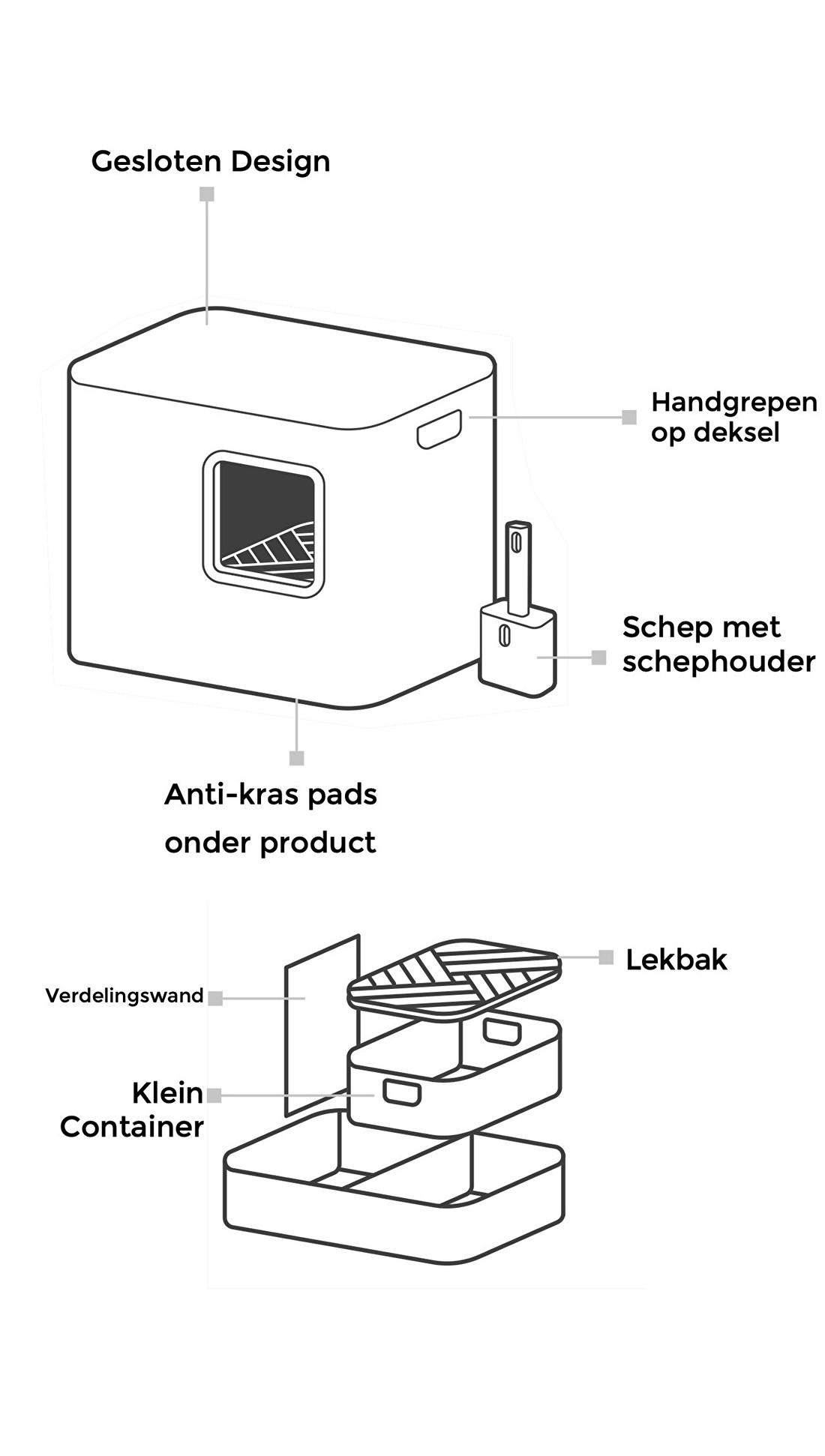 Material:
-Made from recycled ABS
-Produced with environmentally friendly elements
-The ABS is strong and durable
-Scoop: ABS Antibacterial.
Brand:
Hoopo® Dome